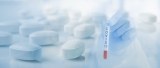 SARS-CoV-2 - Acalabrutinib - Candidats thérapeutiques
Acalabrutinib (or Calquence) is an inhibitor of Bruton's tyrosine kinase (BTK). By inactivating the BTK, acalabrutinib prevents activation of the B-cell antigen receptor (BCR) signaling pathway. The B cell activation and downstream survival pathways of B-cells are thus inhibited and, as a result, the growth of malignant B cells that overexpress B-cells is inhibited. It is for this mode of action that acalabrutinib is used in the treatment of certain types of non-Hodgkin's lymphoma such as mantle cell lymphoma.
A clinical trial is planned to evaluate the effect of acalabrutinib (Calquence) on the exaggerated immune response in patients with severe coronavirus 2019 infection (Covid-19). This clinical study was based on preliminary scientific and clinical data on the BTK pathway and its role in the production of inflammatory cytokines. The purpose of the study was to evaluate the efficacy of acalabrutinib in reducing mortality and ventilation support requirements for patients with severe symptoms of Covid-19.
Search result : 81 product found
Refine your search :
Biochemicals

41

Inhibitor/Antagonist/Agonist

40