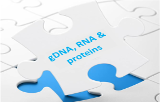 Simultaneous purification of gDNA, RNA and proteins
For simultaneous purification of genomic DNA, total RNA and total protein from cultured cells, animal tissue or plant tissue in less than 1 hour.
High quality genomic DNA with a molecular weight > 20 kb.
High quality total RNA without genomic DNA.
Isolated protein suitable for SDS-PAGE.
No phenol/chloroform or ethanol precipitation required.
Search result : 2 product found