Clinisciences adheres to Récylum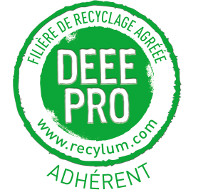 Electronic waste recycling solution

To fulfill its obligations, Clinisciences
adheres to
Récylum and finance the collection and recycling sector approved for professional electrical waste (DEEE Pro). This voluntary commitment enables our customers to benefit from simple and free solutions for the recycling of equipment we sell.
This sector, non-profit, approved by the government, gets and recycle for free waste electrical and electronic equipment from the building, industrial, research and medical (categories 5, 8 and 9 of the DEEE regulations ).
Thus, our customers can break free of waste equipment provided by CliniSciences. They get, certificate to the key, ensuring a rigorous treatment in accordance with regulations. All they have to appeal to Récylum that will tell them the most collection solution tailored to their needs.