Carrefour Pathologie 2021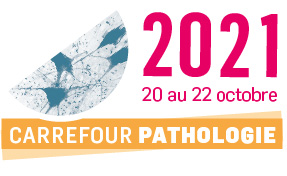 20-22 october 2021 - Palais des Congrès - Paris

Carrefour Pathologie 2021, will be held in a 3-day format at the Palais des Congrès de la Porte Maillot in Paris on 20, 21 and 22 October 2021.
Carrefour Pathologie, organised by the French Society of Pathology (SFP), is the national congress of our discipline which allows all French-speaking pathologists and professionals of anatomy and cytology pathology to exchange with each other, to follow high-level scientific conferences and to meet the industrialists and partners present on the congress exhibition area.
Many innovations this year: among them, the SFP will have the pleasure to invite all the congressmen to lunch on the spot, to increase the time of exchanges.
Due to the health crisis, we will apply the necessary sanitary measures to ensure that this congress will be the moment of training and exchange that you expect, in complete safety.
We hope to see many of you there and are looking forward to seeing you in person at our national conference!
More information