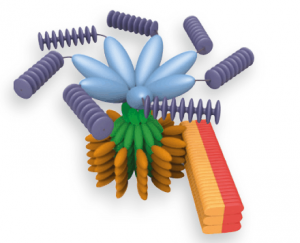 Inflammasome
The inflammasome is a multiprotein oligomer responsible for the activation of inflammatory responses. The inflammasome promotes the maturation and secretion of pro-inflammatory cytokines
Interleukin 1β (IL-1β)
and
Interleukin 18 (IL-18)
. The secretion of these cytokines results in pyroptosis, a form of programmed pro-inflammatory cell death distinct from apoptosis. In the case of dysregulation of the inflammasome, an assortment of major diseases may arise. It is expressed in myeloid cells and is a component of the innate immune system. The inflammasome complex can consist of
caspase 1
,
PYCARD
,
NALP
and sometimes
caspase 5
(also known as caspase 11 or ICH-3).
NLRs
(nucleotide-binding oligomerization domain and leucine-rich repeat-containing receptors) and ALRs (AIM2-like receptors) can also form an inflammasome. The exact composition of an inflammasome depends on the activator which initiates inflammasome assembly, e.g. dsRNA will trigger one inflammasome composition whereas asbestos will assemble a different variant. Because the pro-inflammatory pathway does not need
Toll-like receptors (TLRs)
, inflammasomes with AIM2 can detect cytoplasmic DNA, a danger signal, that may be threatening and strengthen their innate response.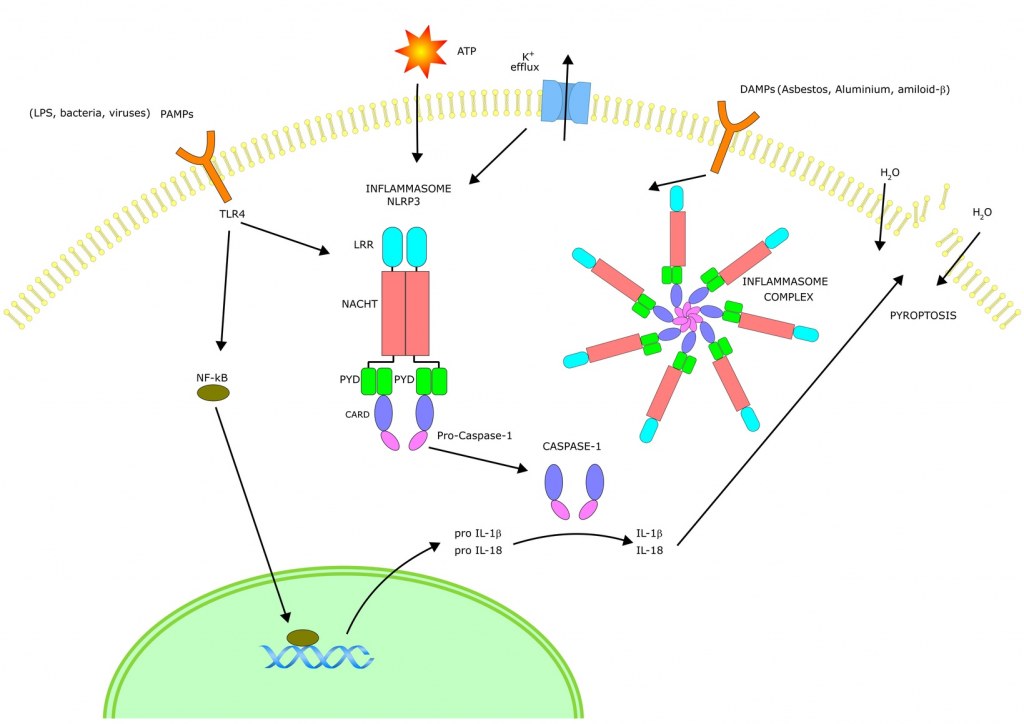 Caspase-1 plays a central role in cell immunity as an inflammatory response initiator. Once activated through formation of an inflammasome complex, it initiates a proinflammatory response through the cleavage and thus activation of the two inflammatory cytokines, interleukin 1β (IL-1β) and interleukin 18 (IL-18) as well as pyroptosis, a programmed lytic cell death pathway, through cleavage of Gasdermin D.