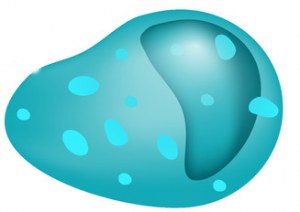 Mast cell
A mast cell (or mastocyte) is a resident cell of several types of tissues and contains many granules rich in histamine and heparin. Although best known for their role in allergy and anaphylaxis, mast cells play an important protective role as well, being intimately involved in wound healing and defense against pathogens.
Mast cells are very close to basophil granulocytes (a class of white blood cells) in blood; the similarities between mast cells and basophils has led many to speculate that mast cells are basophils that have "homed in" on tissues. However, current evidence suggests that they are generated by different precursor cells in the bone marrow. Nevertheless, both mast cells and basophils are thought to originate from bone marrow precursors expressing the CD34 molecule. The basophil leaves the bone marrow already mature, whereas the mast cell circulates in an immature form, only maturing once in a tissue site. The tissue site an immature mast cell chooses to settle in probably determines its precise characteristics.
Two types of mast cells are recognized, those from connective tissue and a distinct set of mucosal mast cells. The activities of the latter are dependent on T-cells.
Mast cells are present in most tissues in the vicinity of blood vessels, and are especially prominent near the boundaries between the outside world and the internal milieu, such as the skin, mucosa of the lungs and digestive tract, as well as in the mouth, conjunctiva and nose. Physiology : Mast cells play a key role in the inflammatory process. When activated, a mast cell rapidly releases its characteristic granules and various hormonal mediators into the interstitium. Mast cells can be stimulated to degranulate by direct injury (e.g. physical or chemical), cross-linking of Immunoglobulin E (IgE) receptors, or by activated complement proteins. Mast cells express a high-affinity receptor (FcεRI) for the Fc region of IgE, the least-abundant member of the antibodies. This receptor is of such high affinity that binding of IgE molecules is essentially irreversible. As a result, mast cells are coated with IgE. IgE is produced by B-cells (the antibody-producing cells of the immune system). IgE molecules, like all antibodies, are specific to one particular antigen. Le complément est un système auxilliaire de l'immunité en particulier de la réponse humorale et de la réponse innée. Les phases initiales de la cascade du complément conduisent toutes à l'activation de la fraction C3 qui elle-même active C5. Dans la voie classique ou la voie des lectines les fractions C4 et C2 sont d'abord activées, permettant le recrutement de C3. Les phases terminales communes utilisent les fractions C6, C7, C8, C9. La moitié des protéines du complément servent à réguler l'action des facteurs C1-C9 essentiellement afin d'éviter l'emballement du système et de protéger nos propres cellules contre le complément.