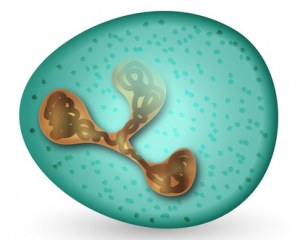 Neutrophils
Neutrophil granulocytes, generally referred to as neutrophils, are the most abundant type of white blood cells in mammals and form an essential part of the immune system.
They form part of the polymorphonuclear cell family (PMNs) together with basophils and eosinophils. The name, neutrophil, derives from staining characteristics on hematoxylin and eosin (H&E) histological or cytological preparations. Whereas basophilic white blood cells stain dark blue and eosinophilic white blood cells stain bright red, neutrophils stain a neutral pink. Normally neutrophils contain a nucleus divided into 2-5 lobes.
Functions :
Phagocytosis - Neutrophils are phagocytes, capable of ingesting microorganisms or particles. They can internalise and kill many microbes, each phagocytic event resulting in the formation of a phagosome into which reactive oxygen species and hydrolytic enzymes are secreted. The consumption of oxygen during the generation of reactive oxygen species has been termed the "respiratory burst," although unrelated to respiration or energy production.
The respiratory burst involves the activation of the enzyme NADPH oxidase, which produces large quantities of superoxide, a reactive oxygen species. Superoxide dismutases, spontaneously or through catalysis via enzymes known as superoxide dismutases (Cu/ZnSOD and MnSOD), to hydrogen peroxide, which is then converted to hypochlorous acid (HOCl, also known as chlorine bleach) by the green heme enzyme myeloperoxidase.
Degranulation -
Neutrophils also release an assortment of proteins in three types of granules by a process called degranulation :
Chemotaxis -
Neutrophils undergo a process called chemotaxis, which allows them to migrate toward sites of infection or inflammation. Cell surface receptors are able to detect chemical gradients of molecules such as Interleukin-8 (IL-8), Interferon-gamma (IFN-gamma), and C5a, which these cells use to direct the path of their migration.