COVID-19 - EasyCov - Rapid saliva test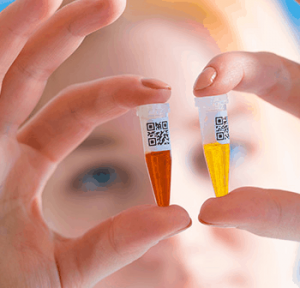 EasyCov is a molecular saliva test for the detection of the SARS-CoV-2 virus in 40 minutes

Saliva is a recognized vector for the spread of the disease. It allows, as indicated by several first-rate scientific studies, an efficient detection of the virus, a non-invasive sampling and a safe implementation.
virus detection based on saliva analysis,
easy to use and does not require a visit to a medical laboratory,
results in less than an hour,
simple visual interpretation by colour recognition.
EasyCOV
is very easy to use, does not require a visit to a medical laboratory and provides fast results in the next process:
Saliva collection with a suitable device provided

Transfer of saliva into a first pre-conditioned tube and bring it to 80°C

Transfer of part of the first tube to a second tube also pre-conditioned and heated to 65°C.

Addition of a small quantity of a solution supplied by a device made available

Immediate visual reading of the colour of the tube contents :
Orange : COVID-19 negative test
Yellow: COVID-19 positive test
All in less than 40 minutes!

Medical devices for in vitro diagnosis. Read the instructions for use carefully.