Mycoplasma Detection PCR Kits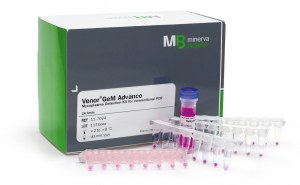 Test your cell culture

Economic
Select from 4 product variants with different validation levels and technical configurations according to your requirements.
PCR mix is provided in aliquots of 25 reactions for highest convenience and long term stability for occasional users.
Critical components are provided freeze-dried for best reagent stability, storage and shipping.
Flexible
Applicable for fast and reliable screening of cell cultures in research,
European Pharmacopoeia (EP) compliant lot release testing of ATMPs, in-process testing, raw material testing, etc.
Kits work on almost any commercially available PCR/qPCR machine.
High Performance
Highest robustness, sensitivity and specificity with a protocol easy to apply.
Venor®GeM Classic and Venor®GeM qEP are validated comprehensively according to the European Pharmacopoeia 2.6.7. The separate Internal Amplification Control allows for optional process monitoring.
Superior results in proficiency tests and in depth robustness studies.
Description
Sizes
VenorGeM Classic


for conventional endpoint PCR

25,50,100,250 Tests
VenorGeM Advance


for conventional endpoint PCR, pre-coated tubes

24,48,96,240 Tests
VenorGeM OneStep
for conventional endpoint PCR, lyophilized mix
25,50,100,250 Tests

VenorGeM qEP


probe assay for qPCR
25,100,250 Tests