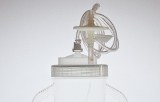 Accessories for Mammalian / Insect Cells culture
Transfer Cap System for
Optimum Growth™ Flasks
Optimum Growth™ Flasks (patented) in conjunction with the Transfer Cap System eliminates the need to move cells to an intermediate transfer for scale up or seed cultures. The ability to pump into the Optimum Growth™ Flask makes filling with media from a bulk source a simple aseptic method. The Transfer Cap in conjunction with the Thomson Optimum Growth™ Flask product line can be used for reagent addition, seeding of larger bioreactors or cell bags, pumping of media into flasks from large drums or bags of media, and other liquid media transfers into and out of bioreactors.
Transfer Cap option connects directly to cell bags & bioreactors with quick connect, luer lock or tube fusing
The Optimum Growth ™ range also includes ancillary accessories such as stands for placing vials.