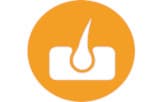 Primary antibodies for immunohistochemistry CE/IVD - Skin
Dermatopathology cases may include melanoma, and other skin disorders; immunologic, infectious and pediatric diseases.
There are more than 1,500 disorders of the skin, ranging from rashes to cancers.
Skin cancers are cancers that arise from the skin. They are due to the development of abnormal cells that have the ability to invade or spread to other parts of the body. There are three main types of skin cancers: basal-cell skin cancer (BCC), squamous-cell skin cancer (SCC) and melanoma. The first two, along with a number of less common skin cancers, are known as non melanoma skin cancer (NMSC).
Less common skin cancers include: dermatofibrosarcoma protuberans, Merkel cell carcinoma, Kaposi's sarcoma, keratoacanthoma, spindle cell tumors, sebaceous carcinomas, microcystic adnexal carcinoma, Paget's disease of the breast, atypical fibroxanthoma, leiomyosarcoma, and angiosarcoma.