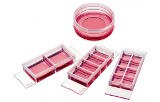 Supports with glass bottom
ibidi offers specialized glass bottom labware with a borosilicate coverglass bottom. ibidi developed these glass surfaces specifically for TIRF, super-resolution microscopy, and single molecule microscopy. The glass bottoms are completely gas-proof and do not allow for any gas exchange.
To provide the highest quality necessary for modern, high-performance microscope objectives, only D 263 M Schott glass coverslips with a thickness range of 170 μm (+/–5 μm) are used. This thickness is also known as #1.5H (high performance).