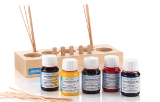 Tissue marking systems
Marking systems are dyes that permanently mark tissue. These dyes can be used to color tissue, paraffin blocks, tissue sections. They can be added directly to glass slides, cassettes for inclusion or tissue transport containers. The inks are used for staining and orientation of tissue samples and then undergo other histopathology techniques.
These dyes make it easy to stain the margins of excised tissue samples. We offer these inks in individual bottles or in sets of 5 or 7 bottles.
They contain pigments formulated to ensure excellent adhesion to tissue surfaces. The colors are chosen to avoid confusion with the commonly used histological dyes. The dye penetrates the surface of the tissue slightly to allow it to remain visible during the regular treatment of the tissue without interfering with the tissue preparation steps.
Resultados de su búsqueda : 17 Producto encontrado