Act-T4 Cell kit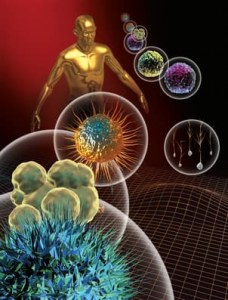 Kit for evaluation of CD4 T-cell functional responses
The Kit Act-T4 Cell is designed to determine the CD4 T-cell-mediated immune response
This antibody combination allows the identification and quantification by flow cytometry of effector CD4 T-cells after incubation of whole blood with mitogens and/or antigens of interest (based on a patented method).
The increase of activated CD4 T-cells total percentage is related to the immune response against the stimulus used.

This method can be used when studying T cell-mediated immune response against pathogens, auto-antigens and allergens. Moreover, it contributes to the evaluation of a patient immunocompetence status.


Advantages:

Compatible with small volume sample (minimun : 250 ul/well)

The cells retain viable

The cells can be sorted for

in vitro

expansion


Analysis on whole blood requires only a cytometer
Kit composition:

Erythrocyte lysing solution

Premixed cocktail of 4 antibodies against membrane antigens (1 vial, 100 tests): CD3/PerCP-Cyanine5.5,

CD4/FITC, CD134/PE

,

CD25/APC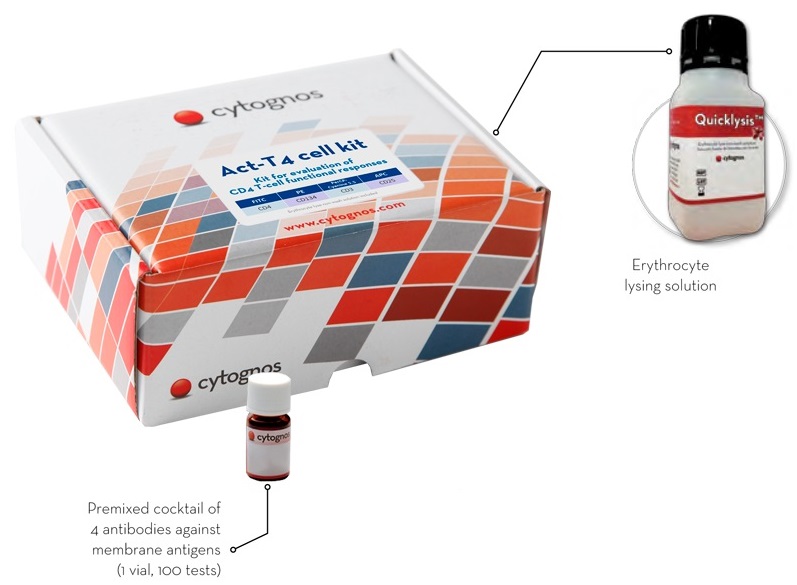 How to use this kit:

Collect heparanized blood sample (minimum sample volume needed: 250 ul/well)

Incubate whole blood sample with culture media and antigens

Staibn using Act-T4 CellTM antibody cocktail

Erythrocyte lysis


Acquire and analyse by flow cytometry
| | | | |
| --- | --- | --- | --- |
| Cat # | Description | Size | Statut |
| CYT-AT4C | Act-T4 CellTM kit | 100 tests | RUO |


Several studies have recently validated the pre-clinical use of Act-T4 CellTM method to evaluate antigen-specific response against virus (e.g CMV, EBV, HCV, HIV) or bacteria (e.g. Mycobacterium tuberculosis). Results were consistent with serology test, cell proliferation studies and other techniques based on IFN gamma production levels, revealing the potential of Act-T4 CellTM to be an accurate, easy and cost-effective method.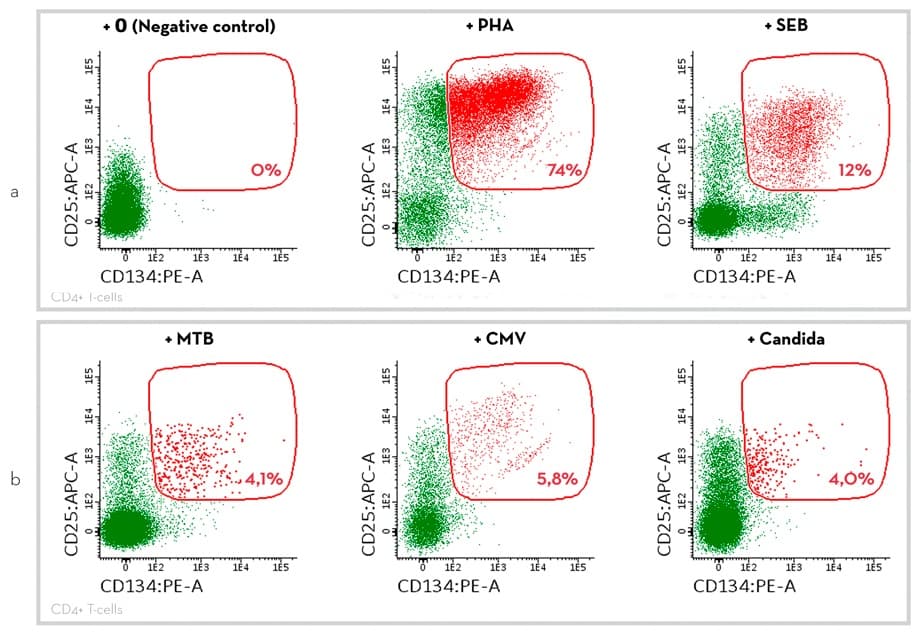 CD25+ CD134+ CD4+ T-cells in response to mitogens and antigens

a- Dot-plots from a representative healthy adult control showing expression for CD25+ CD134+ CD4+ T-cells in the control culture (0) compared with staining in response to PHA and SEB.
b- Representative dot-plots from healthy adult control showing expression for CD25+ CD134+ CD4+ T-cells is shown for each dot-plot. The gates for CD25+ CD134+ Cd4+ T-cells were based on comparison of negative control (no antigen) and positive control (PHA).

Data file analyzed with InfinicytTM