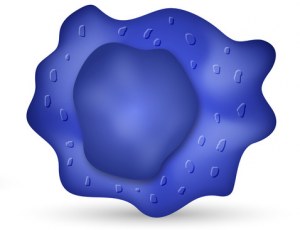 Macrophages
Macrophages are white blood cells within tissues, produced by the division of monocytes. Human macrophages are about 21 micrometres in diameter.
Monocytes and macrophages are phagocytes, acting in both non-specific defense (or innate immunity) as well as to help initiate specific defense mechanisms (or adaptive immunity) of vertebrate animals. Their role is to phagocyte (engulf and then digest) cellular debris and pathogens either as stationary or mobile cells, and to stimulate lymphocytes and other immune cells to respond to the pathogen.
When a monocyte enters damaged tissue through the endothelium of a blood vessel (a process known as the leukocyte extravasation), it undergoes a series of changes to become a macrophage. Monocytes are attracted to a damaged site by chemical substances through chemotaxis, triggered by a range of stimuli including damaged cells, pathogens and cytokines released by macrophages already at the site.