Perfil de la empresa
CliniSciences commercialises reagents (antibodies, recombinants, ELISA kits, RNAi, cDNA clones, probes, PCR/qPCR reagents...) to diagnostic and research labs. As very dynamic company, we do our best to be close to our customers' needs in terms of high quality reagents that we propose and in terms of service that we provide (search for a particular antibody, technical support, delivery time, etc.)

Our principal assets for better serving you : adaptability, flexibility, reactivity and naturally the competence of the technical specialists at your service.

---
CliniSciences Guarantee


Buy with confidence, all our products are guaranteed

Clinisciences markets quality products for research and in-vitro diagnostics.
However, if a product does not perform as stated on the manufacturer's datasheet, CliniSciences is committed to do its utmost to enable you to achieve results consistent with the product specifications.
For this, our dedicated technical support advisors are at your disposal to help you to find the best solution.
How does it work ?

Order the product of your choice

Test the product under the conditions indicated by the manufacturer

We will then:

First, support and optimization to adapt the protocol to your needs

Second approach : replace the product with another lot or a similar product

If no other solution is possible: a credit note for the value of the product will be issued.
---
CliniSciences joins Angels Santé as Associate Corporate Member

CliniSciences, a European group distributing reagents, consumables and instruments for research and diagnostic labs, has become an associate corporate member of Angels Santé, the leading European network of business angels specialising in healthcare. Through this partnership, CliniSciences and Angels Santé state their support for innovation and start-ups in the health sector in Europe

As associate corporate member, CliniSciences will support innovative healthcare start-ups not only with its research and diagnostic solutions but also through its strong distribution network in Europe. Start-ups will also find technical and marketing expertise from CliniSciences. Finally, through Angels Santé, CliniSciences will have the opportunity to invest in start-ups whose innovations are synergistic to its own and/or to form strategic partnerships with them.

---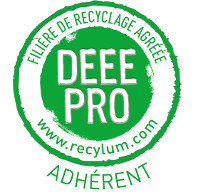 Electronic waste recycling solution
To fulfill its obligations, Clinisciences
adheres to
Récylum and finance the collection and recycling sector approved for professional electrical waste (DEEE Pro). This voluntary commitment enables our customers to benefit from simple and free solutions for the recycling of equipment we sell.
This sector, non-profit, approved by the government, gets and recycle for free waste electrical and electronic equipment from the building, industrial, research and medical (categories 5, 8 and 9 of the DEEE regulations ).
Thus, our customers can break free of waste equipment provided by CliniSciences. They get, certificate to the key, ensuring a rigorous treatment in accordance with regulations. All they have to appeal to Récylum that will tell them the most collection solution tailored to their needs.