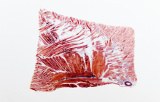 Embedding media
The purpose of the embedding is to allow the realization of fine and regular sections of tissue. The most used embedding medium is paraffin. Since the paraffin is hydrophobic, the sample must first be dehydrated (by immersion in alcohol baths of increasing degree and then in toluene baths) before being poured into a mold containing melted paraffin by heating and became liquid, which then infiltrates the whole room. After cooling, it is in the presence of a paraffin block, hard, inside which the removed part is included. In some cases, other inclusion media (celloidin, plastic resins, etc.) are used.
The paraffin block sections are made with a microtome for making section slices (cuts) of 2 to 5 microns thick. The cuts are collected on glass slides.
It is also possible to work with frozen samples, in this case we will use a specific embedding medium and the cuts will be done by cryostat.