Aviva Systems Biology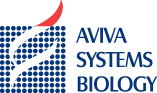 Antibodies to Key Target Families and Unique Content
Our large catalog of antibodies
Aviva Systems Biology provides our customers with an extensive collection of quality antibodies for research and diagnostic applications. Aviva currently offers antibodies to more than 7,000 different protein targets due to our high throughput antibody production releases more than 200 new antibodies every month. Aviva's focus is antibodies to key targets in areas of transcription, epigenetics and cell signaling. Aviva's antibody collection includes unique antibody content to many targets that are not commercially available elsewhere. We place our emphasis on family-oriented antibody production has yielded antibodies to most members of key protein families such as Transcription Factors, Transcription Regulators, RNA Binding Proteins, Ion Channels, and Cell Membrane target proteins.
Continued effort in research and development.
Aviva also has a rich pipeline of an additional 17,000 antibodies that are currently undergoing extensive western blot characterization and validation using a panel of 6 tissues and 6 cell lines. We anticipate releasing several thousand new antibody products in the year ahead as Aviva's high throughput processing team characterizes these candidate new products.
Risultati della ricerca : 314814 prodotto(i) trovato(i)
Limita la ricerca :
Unconjugated

184707

Biotin

27958

FITC

27569

HRP

27095

PE

1060

APC

569

AP

417

Red

268

Rhodamine

248

Low Endotoxin/Azide Free

178

PerCp

149

BSA

131

RPE

118

SPRD

102

TRITC

75

Agarose

47

Cy5

44

OVA

42

BGAL

10

KLH

6

FLMA

5

redFluor 710

5

BIMA

4

Sepharose

4

Cy3

3

DyLight 488

3

HSA

3

BTG

2
human

223667

mouse

130694

rat

114928

cow

77622

dog

76128

horse

72052

rabbit

68583

guinea pig

66835

zebrafish

30942

pig

13966

sheep

6966

yeast

6714

goat

5633

monkey

1844

chicken

1325

virus

839

e. coli

621

hamster

548

bacteria

449

cat

249

all species

186

xenopus

96

drosophila

95

fish

90

frog

61

plant

57

swine

55

pigeon

41

primary

39

ferret

34

insect

14

c. elegans

12

bird

10

duck

10

llama

5

opossum

5

camel

2

gorilla

1
rabbit

179676

human

27232

e. coli

26686

mouse

21082

rat

6593

goat

3968

cow

779

virus

511

horse

474

chicken

472

hamster

467

pig

428

sheep

361

dog

287

guinea pig

235

insect

175

all species

163

yeast

141

swine

126

cat

90

monkey

88

bacteria

80

donkey

75

bird

57

plant

28

parasite

24

drosophila

21

duck

19

pigeon

18

zebrafish

15

fish

13

gallus

9

xenopus

9

llama

6

simian

5

fungus

3

camel

2

equine

2

m

1
Primary antibody

196704

Protein/peptide

44693

Blocking peptide

24308

Lysate

20909

ELISA/ELISPOT

20051

Secondary antibody

3569

Primer

2203

Biological fluids

967

Control isotype

604

Biochemicals

234

Buffers and reagents

214

Tissue

163

kit

101

Other products

43

Primary cells

39

DNA

7

Plastics

2

cell culture media

2

cDNA

1
WB

220836

IHC

69730

ELISA

48957

IP

28228

IF

17971

ICC

14126

FC

8958

PCR

2205

FA

1312

Lateral Flow

1011

ChIP

646

FLISA

512

Inhibition assay

316

Dot blot

291

ELISPOT

218

Chemiluminescence

84

Microscopy

74

Radioimmunoassay

55

Mass spectrometry

54

Stimulation

49

array

45

Cell depletion

27

Detection

25

IY

24

Hemagglutination

14

FN

12

Proximity Ligation Assay

12

Immunodiffusion

10

Assay

7

Immunoradiometric assay

7

Agglutination

6

Neutralization

6

Blocking

5

Immunoassay

5

Immunoelectrophoresis

3

Purification

3

SDS-PAGE

3

Chromatography

2

Multiplex assay

2

Calibration

1

EMSA

1

HA

1

IHC-F

1

IHC-P

1

IS

1

Tissue Culture

1

User Optimized.

1
Polyclonal

184480

Monoclonal

2964

GK1.5

47

53-6.7

46

UCHT1

46

145-2C11

45

RA3-6B2

45

MOPC-21

42

M1/70

41

RB6-8C5

36

2H7

33

MEL-14

33

104

30

90000000000

29

61D3

28

PK136

28

A20

27

1D3

26

H57-597

26

2#

24

IM7

23

N418

23

1A8

22

C1

22

30-H12

21

HI30

21

PC61.5

21

RPA-T8

21

17A2

20

BM8.1

20

CD28.2

20

SJ25C1

20

2F1

19

6#

19

H1.2F3

19

ICRF44

19

OKT4

19

15H6

18

3.9

18

HI100

18

OKT3

18

RPA-T4

18

TER-119

18

XMG1.2

18

A7R34

17

L243

17

UCHL1

17

5#

16

CI:A3-1

16

SK1

16

13R4

15

2D1

15

2D10

15

3D5

15

L17F12

15

M5/114.15.2

15

PY20

15

2A3

14

2B8

14

4-4-20 (enhanced)

14

RM4-5

14

1#

13

1000000

13

1D11

13

1G10

13

2.4G2

13

2A11

13

30-F11

13

3G3

13

3G8

13

HIT2

13

MPC-11

13

OKT8

13

SK7

13

SV5-P-K

13

3C7

12

B1-8

12

C3

12

HIB19

12

HP-3G10

12

KLH/G2b-1-2

12

RPA-2.10

12

SK3

12

3G7

11

6D5

11

RFT8

11

SJ25-C1

11

10.1

10

2.43

10

2C7

10

2F8

10

3A33

10

A-1

10

C1.18.4

10

HOPC-1

10

LTF-2

10

MEM-259

10

OTI1A6

10

UCHT2

10

WM53

10