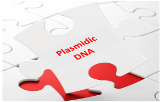 Extraction and purification of plasmidic DNA
A plasmid is a circular double-stranded DNA molecule. The plasmid is independent of chromosomal DNA and is capable of autonomous replication that is not essential for the survival of the cell. This replication takes place from the origin of replication of the plasmid. Plasmids occur naturally in prokaryotes (bacteria) and eukaryotes (yeast) but are also artificially modified for use as a tool in molecular biology. Different plasmids can co-exist in a cell (provided they are mutually compatible).
In nature, plasmids are pieces of DNA that can be transmitted by horizontal transfer from cell to cell. If it carries a gene of interest (e.g. resistance to an antibiotic), this is a definite advantage for the cells that possess it.
Researchers use plasmids to insert a DNA fragment of interest into the cell, thanks to cloning cassettes. This allows them to clone genes to express proteins or RNA and analyse them.