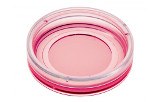 Culture supports for microscopy - u-dishes glass bottom
µ-dishes are cell culture imaging dishes with a coverslip bottom (ibidi polymer #1.5 or glass #1.5H). µ-dishes are ideal for live cell imaging and high resolution microscopy on inverted microscopes.
We offer a wide range of culture dishes with polymer or glass bottoms, in different sizes (35 or 50 mm), different heights (low or high). Some µ-dishes have 4 compartments for different cell analyses and high level microscopy simultaneously. Other µ-dishes have engraved markings on the bottom coverslip that allow counting of events per defined area (e.g. to calculate transfection efficiency). The µ-dishes have a lid with a locking device for minimal evaporation, thus providing excellent conditions for long-term studies in a non-humidified environment. Gas exchange (carbon dioxide or oxygen) during cell culture is maintained by the gas-permeable plastic of the dish.